THE AGUINALDO GOVERNMENT

2c CORREO Y TELEGRAFOS
Issued following General Emilio Aguinaldo's decree of November 2, 1898
establishing effective November 10 the Postal and Telegraph System of the
Philippine Revolutionary Government.
Inscribed
CORREO Y TELEGRAFOS / FILIPINAS / K.K.K. / 2 CENTS

Designed by Marcelino Gomez.
Lithographed by the Litografia de Gomez, Sta. Cruz, Manila,
Using A Single Transfer Block of 50 Subjects (10 x 5) on Unwatermarked Paper.
Issued Perforation 11 1/2. Reported Quantity: 10,000 pieces.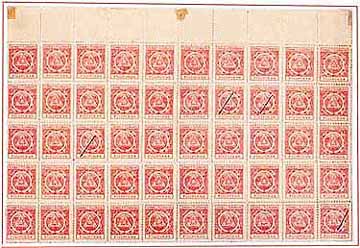 Constant Printing Varieties
Position 4: Break at left side of triangle. Position 17:
Red dot to left side of "F" in "FILIPINAS".
Position 18: Red dots over first "I" and "P" in "FILIPINAS".
Position 23: Red dash below bottom left frame.
Position 50: Red dash over "P" in "FILIPINAS".
ONLY THREE COMPLETE SHEETS KNOWN TO EXIST

YRIGA, CAMARINES SUR CIRCULATING

2c Single Local Rate, tied with captured Spanish type lozenge cancel.

Revolutionary period covers seldom bear date
or place cancels.

Lack of facilities forced the use captured
Spanish Philippines period cancellers.

1898 DAGUPAN to MALOLOS, BULACAN

2c Single Local Rate, registered with 8c CERTIFICADO, tied with Spanish period "CORREOS / DAGUPAN / 31 DIC 98"
and Registry Control No. "46".

Addressed to
SR. (FRANCISCO) VALES,
Director de Comunicaciones.