Inscribed
COMUNICACIONES / SELLO 2 $ PESO

The figure "2" in inverted position.
Issued Perforation 11 1/2 or Imperforate



The first stamp issue of the Bohol Cantonal Government
ONLY TWO SETS KNOWN TO EXIST
1899 "SELLO POSTAL PROVISIONAL" ISSUE
Inscribed
SELLO POSTAL / PROVISIONAL / BOHOL
Individually struck in black on reddish pink paper from one master die.
Issued imperforate. No expressed value but presumed to be 2 centavos,
then the single local rate.


Mint
TO DATE ONLY 17 PIECES RECORDED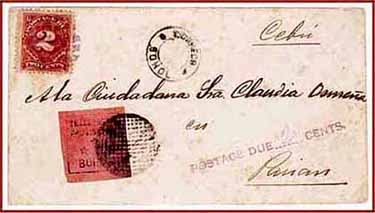 BOHOL to PARIAN, CEBU
Provisional Issue with Spanish period lozenge cancel alongside
"CORREOS BOHOL" postmark. Subjected to 2c Postage Dues
upon arrival and paid with 2c Bureau Issue as 2c pre-paid postage
deemed invalid by U.S. Military Posts.



Backstamped
"MIL. P. STA. No. 4, CEBU, P.I. / REC'D / JUN 21 1899"
OF THE 17 PIECES KNOWN
TWO ARE ON ENTIRE COVERS AND 4 ON CUT SQUARES