Used very briefly prior to the issuance of the "Aguinaldo Issues" and subsequently
replaced with the blue double circle CORREOS CEBU postmark.

Inscribed
"REPUBLICA FILIPINA * ADMON DE CORREOS * CEBU"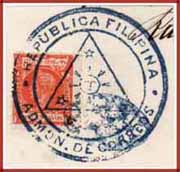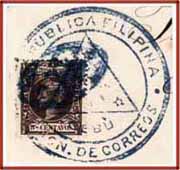 Postal cancel on Spanish Philippines 1898-1899 King Alfonso XIII
issues previously tied to piece with colonial oval matrix ties.
EXIST ONLY ON FOUR ENTIRE COVERS
Though Spain ceded the Philippines to the United States
on December 10, 1898, the U.S. 1st Army Command Forces
occupied Cebu only on April 3, 1899.