TYPOGRAPHED ISSUE OF 1864
Stamp value in "CENT.Po.Fe." (Centavos de Peso Fuerte).
The design was used for the stamps of Spain and the Antilles issue of 1864.
First Issue of the Philippines Printed in Spain.
3 1/8 CENTIMOS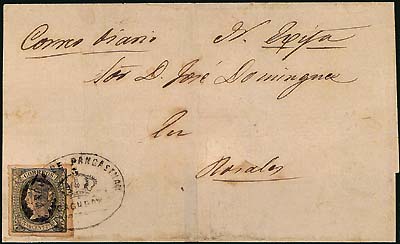 DAGUPAN to ROSALES, NUEVA ECIJA
Folded cover with 3 1/8 Cent issue tied with oval
PROV. DE PANGASINAN / DAGUPAN cancel.
ONLY EXAMPLE KNOWN



ILOILO to MANILA 1866, DECEMBER 22
3 1/8 Cent issue with oval ILOILO cancel.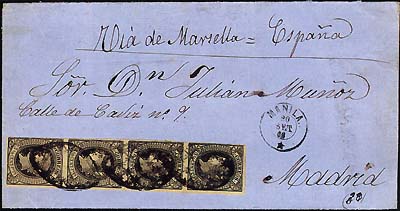 MANILA to MADRID 1866, SEPTEMBER 20
3 1/8 Cent strip of 4 for 12 4/8c Single Outbound Rate to Spain.



USED AS REVENUE STAMP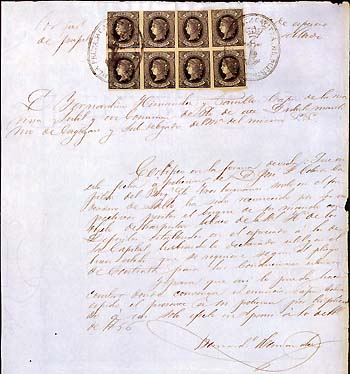 1866 DOCUMENT ISSUED IN CAGAYAN
With block of 8 of 3 1/8c issue used as revenue, paying
for the 25c Derechos de Firma (Fees for Signature) tax.