5 CUARTOS ISSUE OF 1863
Lithographed in Manila
Consisting of four values: 5 centimos vermilion, 10 centimos carmine,
1 real dark violet and 2 reales blue.
The stamp design and printing again rejected by the Central Administration
and its usage for mail addressed to Spain forbidden. The 1 and 2 reales
stamps created for this purpose hardly circulated.
Remainders of these stamps overprinted HABILITADO / POR / LA / NACION
when Queen Isabel II fell from the throne in 1868.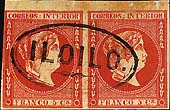 Vermilion
Horizontal Pair Oval ILOILO Cancellation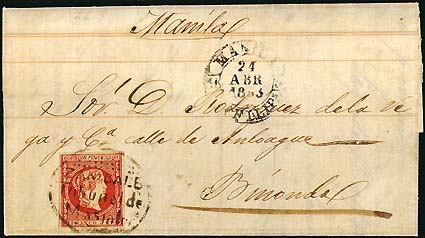 1863 MASINLOC, ZAMBALES to BINONDO
5 Cuartos vermilion with ZAMBALES / TRIBUNAL DE / MASINLOC cancel.
Received Manila with black Baeza date stamp. Ex Boker.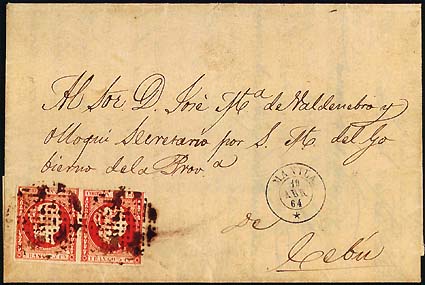 MANILA to CEBU 1864, APRIL 19
Pair of 5 cuartos vermilion for Double Internal Rate
with circle of points cancel and small MANILA date stamp on the side.
LESS THAN 10 COVERS KNOWN WITH THE ISSUE