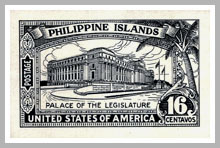 321E: 16 Centavos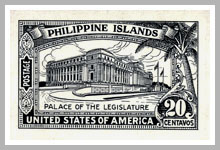 323E: 20 Centavos
The 8c was mostly likely intended for double letter rate to Spanish American Postal Union (SAPU) member countries but was not issued as the 4c McKinley was still available in 1925. I cannot think of any specific use as a single stamp of the 32c value. Except for the 1p of the issued values, the other six denominations had specific uses:

The 2c paid for the domestic First Class Letter Rate (20 grams or fraction thereof), Second Class mail for postal and private mailing cards and Third Class rate (60 grams or fraction thereof).

The 4c was for samples of merchandise at 100 grams or less, and 2c additional for each 50 grams in excess. Also paid for letters delivered to countries belonging to the SAPU and also for postal cards to non SAPU member countries.

The 16c paid for domestic Registration Fee and the 20c for foreign Registry Rate and also for Double First Class rate to non SAPU countries. The 18c most likely intended for single local registered rate. The 24c paid for single registered rate to SAPU countries. The 1p had very little use. More often found on philatelic covers like first flights. It exists properly used on a domestic mail large parcel label and on a large envelope from a trading company to Switzerland.

UNIQUE AND SPECTACULAR!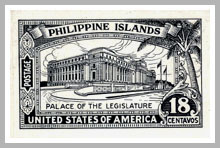 322E: 18 Centavos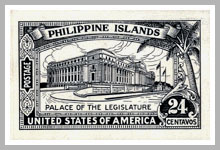 324E: 24 Centavos