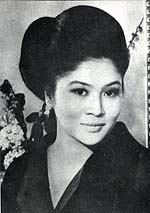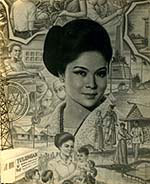 After an 11-day whirlwind romance, Ferdinand Marcos and Imelda were wed in a civil ceremony on April 17, 1954. This was followed by a grand church wedding on May 1 of the same year.

(Left): Photo from a souvenir program which became the basis for a set of stamps honoring Imelda in 1973.
(Right): Photo proof of the stamp issue.


Imelda played a significant role in the political career of her husband as she did not prefer to be just a mere housewife.

As First Lady of the country, the Post Office honored her with a set of stamps showing her various contributions like the Green Revolution, Heart Center for Asia, Project Tulungan (Assistance). She also promoted tourism through the Nayong Filipino, a park that replicated the beauty of the country.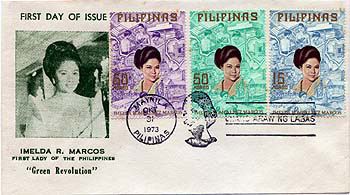 Imelda Marcos Issue, October 31, 1973