Official Overprints on Green Rizal Card
1. Rizal, 4 March 1944
2. Large Commonwealth, 26 June 1944
3. Dalaga, 7 April 1943 (Middle bars High)
4. Dalaga, 19 June 1944 (Middle bars Low)
5. Blood Compact, 7 April 1943 (Middle bar high)
6. Blood Compact, much later (Middle bar Low)
Although regular looking, the cover is an oddity. It may be called a negative first day cover.
A post office employee unknowingly applied a first-day cancel on the stamps although none
of the six -were issued on August 28, 1944.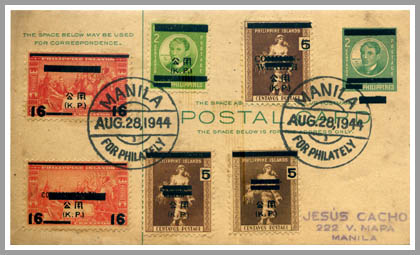 A Jesus Cacho handiwork, it features aside from the Rizal and the large Commonwealth,
the seldom seen in-one-cover-together of the first and second printing
of the Dalaga Koyo and the blood compact.